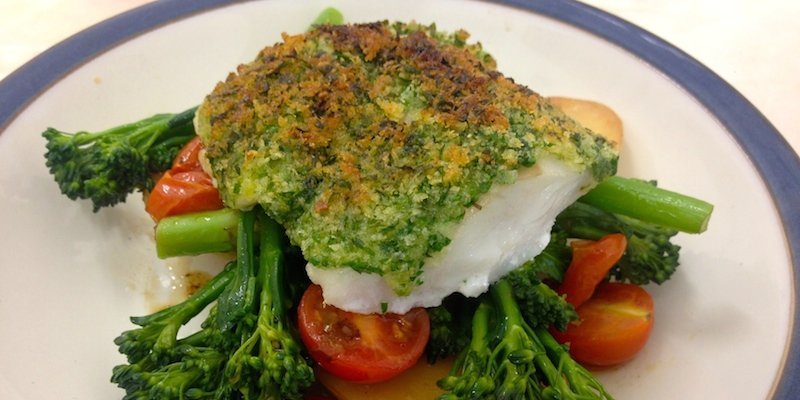 Koj is a British-Japanese chef based in the Cotswolds. After reaching the pinnacle of amateur cooking success in the final of MasterChef 2012, he turned professional after a fast track training programme in Michelin starred kitchens across the UK and Europe, before specialising in Japanese cuisine where his heart and heritage lie. He has cooked Japanese style food for The Queen, sports stars, supermodels and Hollywood royalty. We have also teamed up with Koj, to offer bespoke foodie weekends, weeks or mid weeks when you are staying at a Luxury Cotswold Rental Property.
Cod with gremolata crust, new potatoes and tender steamed broccoli stems (serves 2)
Ingredients
Cod
300-400g cod loin
Sea salt
Cling film
Gremolata crust
Large handful (10g) flat leaf parsley
1 small (1-2g) clove of garlic
Zest of 1/4 lemon (1-2g)
Pinch of sea salt
Grind of black pepper
50g unsalted butter, softened to room temperature
2 tbsp (10-15g) breadcrumbs
Oven dried tomatoes
100-150g baby plum or cherry tomatoes
Olive oil
Sea salt
Garlic
Garnish
200-250g new potatoes
Olive oil or vegetable oil
Sea salt
150-200g tenderstem broccoli
Method
Oven dried tomatoes
Cut the tomatoes in half and dress lightly with olive oil and sea salt. You could also add dried herbs and/or a little grated garlic. Transfer to a baking tray and dehydrate in a low oven (140c or below) for at least an hour to concentrate the flavour.
Gremolata crust
Mince the garlic, then chop the parsley finely and combine the two. Add the zest of 1/4 lemon, then a pinch of salt and pepper. Cut up the butter and fold the gremolata through the butter, then add the breadcrumbs. Roll the mixture out to about 2-3mm thick between a piece of non stick parchment paper and place in the fridge until the butter is hard.
Cod
Cut the cod into 150g-200g portions, then sprinkle with salt, wrap in cling film and place in the fridge for at least 20 minutes. When the gremolata crust is hard, cut it to fit on top of the cod, then place on a baking tray and grill on a medium high temperature for 7-8 minutes, depending on how thick the loin of cod is (alternatively bake in a hot oven for about 10 minutes or until the fish is cooked and the crust is starting to brown).
Warm salad
Slice the potatoes in half (keeping them the same height so that they cook evenly). Fry them in oil and salt for a couple of minutes, then add a little water and a lid and steam for 5-10 minutes. Cut the broccoli, then add to the potatoes for 2 minutes. Once the broccoli turns from dull green to a bright vivid green, add the tomatoes and test for seasoning. Serve the grilled cod on top of the warm salad.