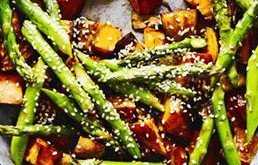 Koj is a British-Japanese chef based in the Cotswolds. After reaching the pinnacle of amateur cooking success in the final of MasterChef 2012, he turned professional after a fast track training programme in Michelin starred kitchens across the UK and Europe, before specialising in Japanese cuisine where his heart and heritage lie. He has cooked Japanese style food for The Queen, sports stars, supermodels and Hollywood royalty. We have also teamed up with Koj, to offer bespoke foodie weekends, weeks or mid weeks when you are staying at a Luxury Cotswold Rental Property.
Asparagus and Sweet Potato Salad
INGREDIENTS
250g sweet potatoes, peeled and diced (1 inch dice)
1 tbsp vegetable oil
1 small bunch of asparagus (ends trimmed, cut into 2 or 3)
Equipment
Small mixing bowl or jam jar
Large mixing bowl
Roasting tray
Dressing
1 tbsp runny honey
1/2 tsp sesame oil
1 tbsp soy sauce
1 small piece of fresh root ginger (crushed)
1 tsp toasted sesame seeds
Method
Dressing
In a mixing bowl or jam jar, make a dressing using the sesame oil, honey, ginger and soy sauce. Dress the vegetables while they are still warm, then sprinkle over the toasted sesame seeds. Serve warm, perhaps with a little fresh rocket.
Tray bake
Preheat the oven to 190-200 celsius. Dice the sweet potato, spread them out in a roasting tray and drizzle with vegetable oil. Roast for 15 minutes or until tender. Add the asparagus and bake for a further 5 minutes, according to taste (I like them still crunchy).