The Cotswolds do not just have stunning scenery and quaint villages to offer but some of the finest dining experiences in the country. So to give you food for thought we thought it would be nice to take you on a culinary day out to to some of our favourite savoury havens. So, without further ado, allons-y!
Breakfast
The Kitchen in Minchinhampton has won multiple Cotswold Life Food and Drink Awards and is a genuine hidden gem. You could enjoy breakfast, lunch and afternoon tea in this charming café but if you want to get your day off to a splendid start we definitely recommend the breakfast menu. Enjoy a traditional 'Full English breakfast (or their vegetarian option) which – like all sandwiches – comes with bread from the Cotswold's very own Hobbs House Bakery and over all local produce.
Lunch
Stepping in to The Woolpack Slad is like traveling back in time to the halcyon days of local poet Laurie Lee; author of the famous 'Cider With Rosie'. Just down the road from Sheepscombe House, The Woolpack serves everything from delicious sandwiches to a full traditional British lunch in this rare pub. And if you return in the evening you will find yourself in the middle of a joyous live music event; so bring your instrument of choice and join in.
Quayles in the heart of Tetbury is a passionately run family business which works closely with local suppliers to serve delicious delicacies; and is loved by locals and visitors alike. The Italian influenced lunch menu offers a great selection form garlic prawns to Toasted Ciabatta with Buffalo Mozzarella or a delicious Aubergine Parmegiano. And to make things taste even better Luxury Cotswold Rental guests receive a 10% discount when you spend £25 or more.
And if you're spending your day out and about Jolly Nice roadside farm-shop and ice cream parlour is a popular stop. If you're after a delicious burger, some local produce to cook up your own storm or exotic ice cream flavours (rhubarb crumble anyone?) to enjoy in the yurt picnic meadow this is a jolly nice place to come!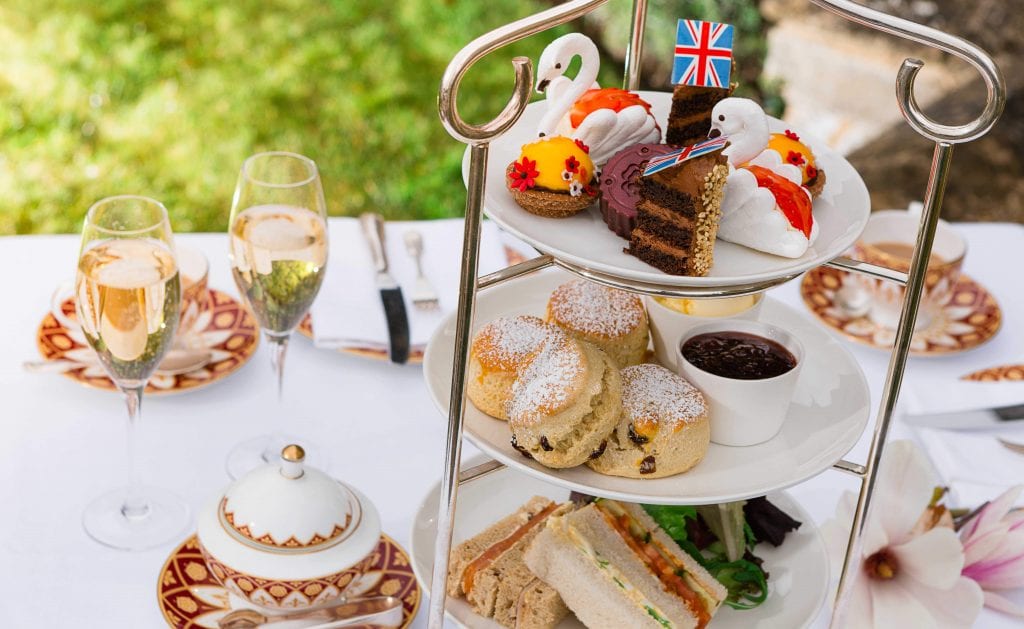 Afternoon Tea
Afternoon Tea is an English treat and deserves a setting fit for royalty. Both Thornbury Castle and Ellenborough Park offer classic teatime menus in a historic and elegant surrounding where you can take a stroll around the castle grounds after tea.
If you are looking to enjoy a spa trip before or after your tea, beautiful Barnsley House and Spa is just the place and those who have a soft spot for tea sets will find themselves in paradise at the very popular The Chipping Norton Tea Set in this charming town.
Ice Cream Treats
Winstone's Ice Cream Parlour, nestled on the side of the National Trust's Rodborough Common, serves more than 100,000 happy customers every year, and is one of the busiest ice cream shops in the West Country. On sunny days you will even find their vintage vans on Rodborough and Minchinhampton Common. And people don't just come to enjoy the amazing Cotswold ice cream but to take in the breath-taking views and 'go fly a kite'.
Dinner
The Storyteller in Cheltenham offers a unique menu with Texan and Mexican influences. Meat (kangaroo steak anyone?), poultry, fish and seafood await in exciting arrangements to guarantee tastebud-explosions! In a comfortable atmosphere under a glass roof this restaurant is a great dining experience for friends and family groups.
Fans of fine dining will find their paradise at Cowley Manor. Owned by the Sainsbury family this landmark – just a short walk from Westerleigh Cottage – serves exotic starters such as octopus carpaccio and follows up with mouthwatering roasted Monkfish tail and 35 day aged Longhorn beef fillet. And with a private dining room this makes the perfect setting for special celebrations.
If you are looking for something more casual we can highly recommend the Tetbury Royal Oak gastro pub. Owned by our friends Kate and Chris, this is only a few minutes stroll from The Old Surgery, Berkeley House and New Church Cottage and a firm favourite with all our guests; as well as us of course. A large selection of locally produced drinks (ales, cider, juices, wine and gin), burgers, salads, steaks and even a whole vegan friendly menu offers something for everyone in a warm and friendly atmosphere. And if you seek more vegan savouries, Kate has recently opened Asparagasm, in Nailsworth, based on her very popular pop-up restaurant.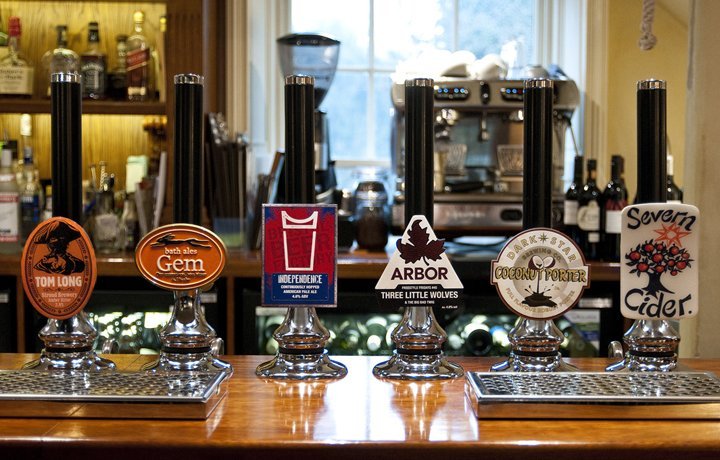 Sadly, there is not enough time here to recommend all the great eateries in the Cotswolds that we love, so do contact us if you are looking for a particular cuisine, menu style or a recommendation close to where you might be staying.