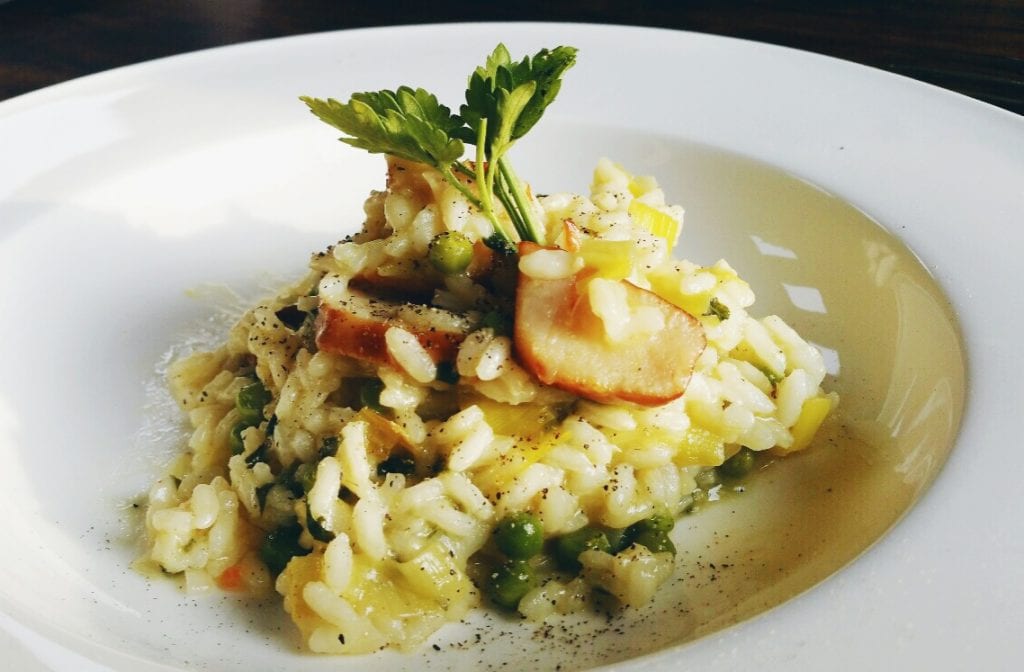 Lesley and Nigel are the owners of Dryhill Farmhouse and Cottage. She is the mastermind behind the stunning, African and oriental inspired interiors which and a lovely host who never fails to impress with her culinary skill. Keep reading to find out the secret of her newest creation.
Smoked Scallop Risotto
Ingredients
3 large handfuls of Carluccio's carnaroli rice.
1 pack of 'Isle of Ewe' smoked scallops,  roes removed  and sliced .
1 leek cut into thin rings
1 large handful of frozen peas
1 tablespoon of olive oil
1 pint of chicken stock (preferably home-made)
zest of 1/2 a lemon
1 tablespoon of lemon juice
1 tablespoon of flat leaf parsley chopped and a sprig for garnishing
1 sprig of fresh mint , finely chopped.
Drizzle with chilli oil before serving (optional)
Method
Fry the leeks in the olive oil until soft, add the rice stir and cook for 1 minute.
Add the heated stock gradually, 1 ladle at a time during the cooking over a medium heat allowing rice to absorb stock in between ladles.
Half way through the cooking process add the rest of the ingredients, keep stirring, test the bite on the rice to cook to perfection, slightly al dente should take around 20 mins.