The Cotswolds are an ideal location to get active on your holiday whether it's pursuing your favourite hobby or dipping your toes into the unknown. There is something for everyone at every age and you may be surprised at some of the fantastic Cotswold Sporting options. Looking for a specific place or activity we haven't listed or if you'd like something just around the corner from where you are staying? Please contact us and we will be happy to help.
Golf
The undisputed king of golf clubs in the Cotswolds is the Minchinhampton Golf Club, only a few minutes drive from Tetbury. With two Championship Courses near Avening and an open course on Minchinhampton Common there is plenty of choice on where to swing your clubs. The Old Course first opened in 1889 and legend also has it that the adjacent Old Lodge Inn was used as a hunting retreat for Henry VIII and now is somewhere you can retreat to after a morning or afternoon on the greens.
Both site locations offer excellent facilities and catering to fuel hungry golfers. For beginners the New Course offers a driving range, short game area, practice putting green and state of the art teaching and performance centres.
If you are staying at Dryhill or anywhere near Cheltenham the Cotswold Hills Golf Club in Ullenwood is a great place to test your downswing on the Championship course.
But if you don't want to play championship then the 9 hole course – with an honesty box – at Westonbirt is perfect for an afternoon swing.
Polo
Whether you would like to play, learn or watch both Beaufort and Cirencester Park Polo Clubs are excellent and very well established clubs and not bad places to spot a Royal or two Beaufort is home to the famous Tomlinson polo dynasty and Cirencester Park, set in 3000 acres of parkland, is owned by Earl and Countess Bathurst.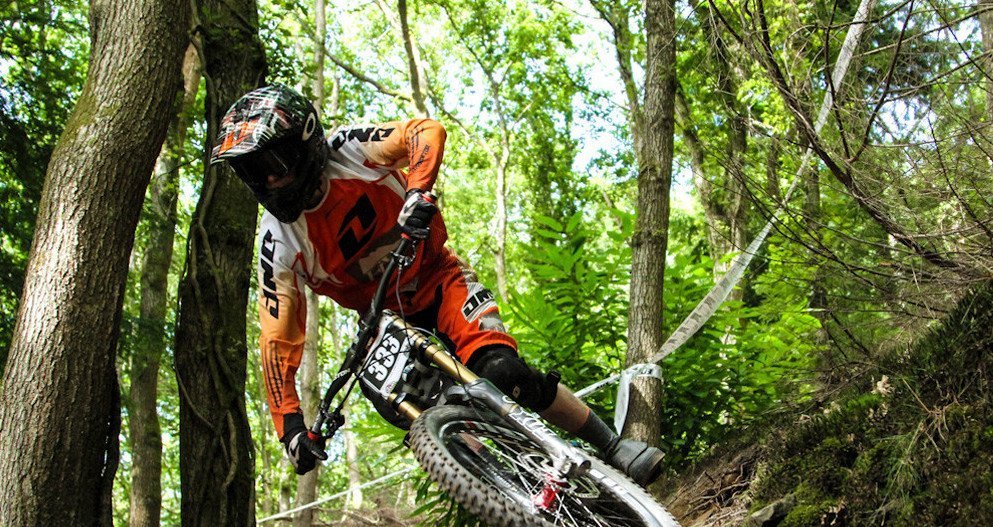 Mountainbiking
FlyUp Downhill has been operating mountain bike tracks in the Forest of Dean since 2010. They offer a lift service so that you get to experience the exhilarating rush of flying down the hill without the struggle of pushing yourself back up. In 2013 work has begun for the FlyUp 471 Project and is now completed near Cheltenham and with 100 acres it the largest privately owned mountain bike site in the country.
Water Sports
With 150 lakes set over 40 square miles the Cotswold Water Park offers an array of water sports including windsurfing, waterskiing and canoeing. And once you've dried yourself off even more activities such as horse riding, archery and an ariel adventure awaits. Close to the park you will find a number of cafes, pubs and restaurant to fuel up after a day full of action.
Fishing
Lechlade and Bushy Leaze Trout Fisheries lie near the headwaters of the River Thames; and both fisheries are peaceful and beautifully landscaped , offering a superb range of fishing and other facilities. Lechlade Trout Fishery is a nine-acre lake with a further 250 yards of wild Brown Trout fishing on the River Leach. It is stocked as a "big fish" water, with an average stocking size of four to six pounds. Bushy Leaze (22 acres) has a minimum stocking size of two pounds, with a good amount of four-to-six-pounders, and regular stocking of double figure fish.
Bibury Trout Farm is a great place to take children with a play area and fishing gear to borrow. The farm's terrace cafe is also a fantastic opportunity to try delicious smoked trout and other local delicacies!
The area around Chipping Norton has many fishing facilities to offer: Mr Parker and Mrs Rudge from the Great Rollright are open all year round and offer both Coarse and night fishing. At the Rectory Farm beginners can take lessons while the experienced fisherman has the choice of swinging the rut in the daytime or evening.
Gliding
Although you might not think of Gliding as a 'country' sport it is not one you should miss as long as you have a reasonable head for nights. Seeing the Cotswolds from 3000 feet. The Cotswold Gliding Club at Aston Down Airfields – one of the best gliding clubs in the UK – offers trial lessons and evening flights as does the Bristol and Gloucestershire Gliding Club in Nympsfield near Stroud.
Cricket
There are few things as quintessentially British as cricket. And especially in the Cotswolds it is celebrated with matches on idyllic village greens. On a sunny weekend what could be more enjoyable than watching the cricket before and/or after a trip to the pub for a cool ale? Of of the most popular places to watch village cricket on Saturdays and Sundays is at the Dumbleton Cricket Club with it's fantastic parkland setting and cozy and lively clubhouse.